About Glews
The
Global Early Warning System (GLEWS)
is a joint system that builds on the added value of combining and coordinating the alert and disease intelligence mechanisms of OIE, FAO and WHO for the international community and stakeholders to assist in prediction, prevention and control of animal disease threats, including zoonoses, through sharing of information, epidemiological analysis and joint risk assessment...
[READ MORE]
To view disease events analyzed by Glews click here
News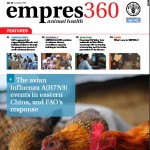 October 21, 2013
Bulletin 42/2013

The avian influenza A(H7N9) events in eastern China, and FAO's response.
FAO's approach for supporting livelihoods and building resilience through the progressive control of small ruminant diseases.
EMPRES/GLEWS activities to enhance disease surv eillance capacity building in East Africa.