Since January 2010, foot-and-mouth disease (FMD) due to serotype O is spreading regionally in Asia into free countries/territories such as Republic of Korea (ROK) (last occurrence in 2002) and Japan (last occurrence in 2000) after several years of no outbreaks. Taiwan ROC reported several outbreaks beginning in February 2009 (this was the first reoccurrence since 2001). In addition to regional spread in Asia, upsurges in cases of FMD in endemic areas are occurring and increasing risk for onward transmission to more distant countries including those that have formal OIE recognition of FMD free status.

The current FMD events of concern are the outbreaks of the South East Asia of type O (topotype Mya-98) confirmed in the ROK in April 2010. Closely related FMD viruses have also been recovered from People's Republic of China (PRC) during February 2010 (Guangdong Province and Hong Kong SAR). The genetic relationships of serotype O from subsequent outbreaks affecting Gansu, Shanxi and Jiangxi provinces, as well as Japan and Taiwan ROC have not yet been reported.
Map 1: FMD outbreaks due to serotype O in 2010 in the countries where this serotype is not endemic.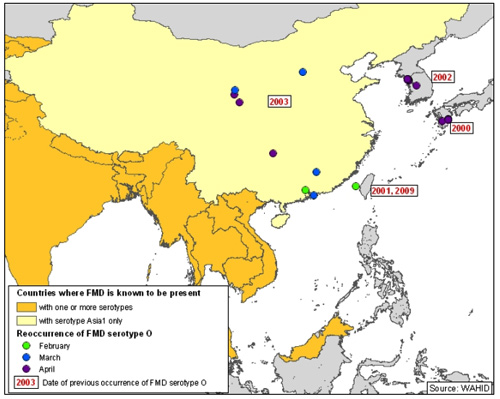 Past FMD events of concern in the region show a similar pattern of spread observed in 2009/2010 for a South East Asia strain of serotype A. PRC reported cases in Hubei Province in January 2009, after which outbreaks due to related viruses were reported throughout 2009 in six more provinces (Shanghai, Jiangsu, Guangxi, Guizhou, Shangdong, Jingjiang). Further spread of this lineage into the ROK occurred during January-March 2010, the first time that this serotype has been reported in the country. In 2010, there was a report of sub-clinical FMDV of serotype A in Beijing but the topotype responsible has not been reported.
The map below shows the distribution of FMD outbreaks including in countries where FMD is endemic in South East Asia.
Map 2: FMD outbreaks in South East and Far Asia from 1 January 2009 to 30 April 2010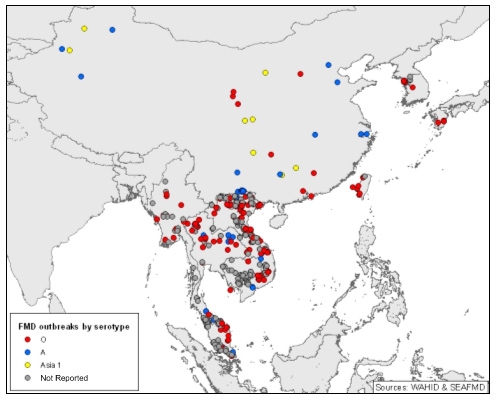 Previous instance of spread of FMDV from South East Asia into PRC (Yunnan Province) involved the serotype Asia 1 in 2006. Vietnam, reported the first occurrence of serotype Asia1 in 2006. Several outbreaks of FMD due to virus serotype Asia 1 were reported in the province of Quang Tri in June 2007 and this serotype is now endemic.
Furthermore, FMDV type O (topotype Mya-98) was also detected in Mongolia in 2004. A new outbreak of FMD serotype O has been confirmed in Mongolia in April 2010 but the topotype responsible for this outbreak has not been confirmed.
Discussion and conclusions
All these findings provide evidence for the porous nature of the borders between countries in South East Asia and PRC and highlight the continued threat posed by FMD as a transboundary disease in this region. Moreover, clinically ill and short incubation period could allow animals to enter the food chain in Asia which could be a threat to long-distance spread of the disease (such as what happened in 2000 when Korean and Japanese outbreaks preceded South African and European outbreaks of FMD type O).
Livestock movement (both formal and informal) plays an important role in the spread and epidemiology of FMD worldwide. This livestock trade is dynamic and predominantly driven by seasonal changes in demand and price differential of livestock products. Many factors could explain the spread of FMD to free areas and its upsurge in some endemic areas worldwide recently. There is a lack of coordination between countries and between provinces, the low level of immunity caused by inadequate vaccination strategies (quality, coverage and timing, absence of a common strategy), the unregulated movement of animals, feed and of their products, the lack of robust detection, reporting and response mechanisms).
The current FMD situation with the spread of serotypes O in PRC, ROK, Japan and Mongolia is uncertain in Asia. A complete picture of the strains circulating in the region is difficult to obtain since there is under-reporting in endemic countries and a large number of samples taken from FMD outbreaks are either not typed or unsuitable for typing. Increased coordination and sharing of data on FMD surveillance between countries in the region is now urgently required to formally identify transboundary transmission routes and to ensure suitable vaccines are available to protect animals from these speading strains.
Sources of information:
Other interesting link: